[ Judy's Menu ][ News Page ][ Publications ][ Links ]
What's New?
A Frequently updated list of forthcoming/recent events and publications.
The aim of this page is to keep website visitors up to date with Judy's new projects.
New Link: The Diversity Website. This website has a large interesting section on BBC radio plays, with details of playwrights, reviews and articles.
New Page: Lockdown Tales. Lots of new fiction produced for these strange times.
New Page: Podcasts. Some of Judy's fiction that you can listen to online.
What's New?
2022.
OUT OF THE FRYING PAN (Novel)
See below for details of Judy's debut novel. There are now several reviews of this book online
Ingenue Magazine - https://issuu.com/ingenue.magazine/docs/ingenue-35_spring-2022_webr
Number 9 Review Blog spot - https://number9reviews.blogspot.com/2021/11/book-review-out-of-frying-pan.html
Whispering Stories - https://www.whisperingstories.com/out-of-the-frying-pan-judy-upton-book-review/
The novel was a reader recommendation in Yours Magazine (issue 395. Feb 8-21 2022)
---
MAN'S BEST FRIEND (Short Story)
New short story 'Man's Best Friend' is in Italian literary magazine Open Doors Review this month
Open Doors Review, April 2022 Issue. https://www.opendoorsreview.com/
---
THE SPANISH FRIEND (Short Play)
Nice to see the theatres reopening. Judy had a new short play premiered at the 6th INK Festival in Halesworth, Suffolk.
The Festival ran from Thursday 21st April until Sunday 24th April 2022. Venues included The Cut, New Cut, Halesworth, Suffolk, IP19 8BY, and the Thoroughfare.
"There are so many fabulous plays to see, radio plays to listen to, poetry every day at The White Swan including Luke Wright, The Bare Face Theatre Company, fascinating talks from producers and writers of Clarkson's Farm and Ten Percent, the English version of Call My Agent plus a wonderful art show."
If you missed the festival, some of the plays are going on a tour across the east region. See below.
INK ON TOUR 
INK brings INK ON TOUR – a celebration of the short play, to 12 venues across East Anglia.
14th May - 28th May 2022
In May, after the hugely successful INK Festival, some of the best plays are going on tour to 12 venues in East Anglia, with contributions from writing superstars such as Miranda Hart. So if you missed INK Festival last weekend - come and see us us at one of these 12 venues.
Each performance will see nine brilliant short plays performed, from new writers to established playwrights, proving that the most exciting new plays can be unexpectedly short and entertaining.
There will be two 45 min halves with an interval. You may cry, laugh, feel shocked but most importantly, be prepared to be entertained!
The Line up
The Spanish Friend by Judy Upton, Shooter by Kimberly Kalaja, Raghead by Tom Coash, Stay Call! by Kevin Cuffe, Press Play by Seth Freeman, Elvis & Me by Jan Etherington and Gavin Petrie, The Most Important Journey Doesn't Need a Passport by Miranda Hart, Consent by David Butler, Michelle and Little Fish by Sarah Baxter.
"We are delighted that 9 of the best brand new short plays which premiered at INK Festival 2022 are now going on tour to communities throughout our region. They have been selected from over 2000 new submissions by new and experienced writers – many with East Anglian connections. " - Julia Sowerbutts, Artistic Director of INK

DATES AND VENUES
14th May -Stage Two, Norwich,
15th- Jubilee Hall, Aldeburgh,
17th - St Georges Theatre, Great Yarmouth,
18th - Stoke by Clare Village Hall,
19th - Headgate Theatre, Colchester,
20th - Brandeston Village Hall,
21st - Westgate Theatre, North Norfolk,
22nd - Bradfield Village Hall,
25th - Sheringham Little Theatre,
26th - Geldeston Village Hall,
27th - St Audrys Club, Melton Woodbridge,
28th May - The Space, Isle of Dogs.

More details, or book your tickets at - INK | East Anglian Tour (inkfestival.org)
---
2021.
What Maisie Didn't Know.
A second published novel for 2021.
ISBN 978-1903110812
Price £14. Format: Hardback.
Publisher: Wrecking Ball Press
The further adventures of the characters from Judy's published novella "Maisie and Mrs Webster" (2018)
Synopsis: Maisie is outrageous, fun loving and one of life's rebels. Despite her serious mobility issues, she's excited to be moving into the new flat her "social wonder" has found her. Previously, her closest companion has been Mrs Webster, the spider she's made an Instagram sensation. Now, for the first time, she has neighbours and high hopes it's all going to be just like "Friends". But with a gun in the meter cupboard and strangers turning up day and night, Maisie soon starts to realise that home isn't always where the heart is.
Out Of The Frying Pan.
A brand new mystery novel.
Genre: Crime and mystery: private investigator / amateur detectives
ISBN: 978-1-914322-07-5 Format: Paperback
Pub date: 30 August 2021. Price £8.99
Synopsis: How many artists does it take to solve a kidnapping?
Brighton sculptor Vonnie Sharpe's laid back routine is shattered when her flatmate Gina is carjacked during a bank robbery.
Gina's car is found abandoned on the South Downs but there's no sign of the quiet young chip shop worker. A worried Vonnie enlists the help of her arty friends in the race to find her. With a singer, actor and busker on her team, she half-wonders if she could've got Arts Council funding for her search.
Vonnie tracks down the bank robber, who insists he left Gina unharmed in her car. From here the trail twists and turns through art classes, language schools and escape rooms, as she narrows down her list of suspects. A ransom note arrives and it's Vonnie who the kidnappers want to deliver the money. With the cash drop imminent and not knowing who she can trust, she needs to find answers - and quickly.
---
Judy Upton: Plays 2.
Copyright (c) 2021 by Judy Upton
Published by Methuen Publishing Ltd.
ISBN
Published: 23rd September 2021
This second volume of Judy's plays features Bruises; The Girlz; Sliding With Suzanne; Gaby Goes Global; and a selection of Lockdown Tales, plus an introduction by the author.
A PDF eBook (Watermarked) is available.
See https://www.bloomsbury.com/us/judy-upton-plays-2-9781350249172/ for more details
---
Urban Foxes.
The Amsterdam Quarterly 2020 Year Book contains Judy's story: Urban Foxes.
https://www.amsterdamquarterly.org/news/amsterdam-quarterly-celebrates-ninth-yearbook/
---
C.A.T.S.: Cycling Across Time And Space: 11 Feminist Science Fiction and Fantasy Stories about Bicycling and Cats
Stories about cosmic bicycles and fantastic felines Has your cat been plotting to take over command of your spaceship? This and other important questions are tackled in the 11 science fiction and fantasy stories in this volume, told variously from the perspectives of humans and cats. A bicycle designer finds an exciting new technical challenge on a planet inhabited by felines. A wise cat tries to convince an excited puppy not to chase cyclists. On Mars, a cat helps save the life of their human after a quake. In other stories, a student must live with the consequences of magic gone awry, a cat contrives to go on a bicycle trip, a police robot learns empathy, a captured tiger lashes out, and a young sphinx finds her wings.
Featuring stories by Alice Dryden, Cherise Fong, Gerri Leen, Gretchin Lair, Jessie Kwak, Judy Upton, Juliet Wilson, Kathleen Jowitt, Kiya Nicoll, Monique Cuillerier, and Summer Jewel Keown.
Available to pre-order.$12.95.
160 pages, paperback (8 oz).
Available in stores February 8, 2022
ISBN 9781648411199
Publisher: Elly Blue Publishing https://microcosmpublishing.com/catalog/books/16107
2020 - 21
Since the start of the Corona Virus pandemic in March 2020, Judy has been writing a series of monologues, short plays and stories, featuring people living under the lockdown. Many of these have already been filmed/published online, and so details can be found on a new page - LOCKDOWN TALES.
This includes
THE WHITE HART


Produced as a short film by Lights Down Productions. June 2020.
https://www.youtube.com/watch?v=IUJiAvf1piA
Scenesaver: http://www.scenesaver.co.uk/production/the-white-hart/
Actor: Jodyanne Fletcher Richardson, director: Leah Townley, producer Caley Powell
---
2020.
NEW SHORT STORY - HENRIETTA

https://hcemagazine.com/henrietta-judy-upton/
Synopsis: Henrietta appears to be a turtle, but things aren't quite as they seem.
---
PODCAST DRAMA - JUST LIKE GIVING BLOOD

https://lostsoulsmonologues.com/
A new 30 minute monologue available on: Google Podcasts, Spotify, Stitcher etc

Sophie loves her husband and wants to have a baby more than anything in the world. Making IVF more affordable presents her with other possibilities. How important is biology to motherhood?

Written by Judy Upton
Directed by Hannah Genesius
Performed by Tamar Karabetyan
---
THE WALL.
Beyond the wall is a land of hope, but who is waiting to cross to the other side?

Featured in a selection of new writing curated by Lita Doolan, performed remotely at Brighton Fringe in Autumn 2020.

Moments of loss and conservation merge and mix with tips on how to throw the earth a life jacket up during these rocky times.
Here's a 30 second snippet! https://youtu.be/IH_Nc8-1v7I
---
STORM IN A 'B' CUP
Synopsis: An underwear making entrepreneur gets caught up in an international spying scandal. Surely her luxury bras can't be responsible?
Produced by Hand To Mouth Audio Theatre, July 2020
https://www.podomatic.com/podcasts/handtomouth/episodes/2020-06-23T04_44_57-07_00
Actor: Philippa Kerswill, director David Pollard.
Also available as a free audible download at Amazon.
---
2019.
AFTERNOON DRAMA ON BBC RADIO 4
The Bulbul Was Singing.
Synopsis: Laura (Rebecca Humphries) is a young British woman who's been fighting with the Kurds against Isis. Now she's back in the UK, she finds herself charged with terrorism offences. By Judy Upton.

Directed by Emma Harding

Laura . . . Rebecca Humphries
Ariman . . . Shaniaz Hama Ali
Dad . . . Paul Hickey
Jonas . . . Jonny Holden
Instructor . . . Saya Zahawi
D I Kent . . . Catherine Cusack
PC Miller . . . Shaun Mason
Serena . . . Debbie Korley
Custody Assistant . . . Chris Pavlo
LISTEN HERE: https://www.bbc.co.uk/programmes/m0007qbk
2018
NOVELLA - "MAISIE AND MRS WEBSTER"

HOMETOWN TALES: SOUTH COAST
Published by Weidenfeld and Nicolson
On Sale: 28th June 2018
Price: £9.99
ISBN-13: 9781474608701

A two novella volume containing 'Maisie And Mrs Webster' by Judy Upton

Synopsis: Maisie is an irrepressible force of nature, despite being bed bound, and Mrs Webster is a very influential spider.
---
PODCAST DRAMA


The Forgotten Women Podcasts
Peer Productions are currently working alongside Bishopsgate Institute to develop a new podcast series, Forgotten Women, that wants to celebrate female British activists who have been pushed into the margins of history.

Working together with heritage partners, professional actors and playwrights and our talented young artists from our Actor Development Programme, we are releasing 10 podcasts over the next year, bringing to life the stories of women whose remarkable contributions have remained unsung. You can find the podcast on Apple Podcasts, Spotify and many other podcast providers.

Our Actors have been visiting Bishopsgate Institute and Egham Museum to carefully research female activism across the last 150 years. Using the information they have found we have collaborated with writers and actors to bring the history to life. All our podcasts are recorded in front of a live studio audience, with our team using foley sound and live music.

For more information on the project visit the website, or find us on Twitter and Instagram.

This series has been directed and produced by our Associate Director, Rebecca Alloway.

Out For The Count by Judy Upton – Following Suffragettes and Suffragists on the night of the 1911 census

http://test.peerproductions.co.uk/the-forgotten-women-of-history-podcast/
---
Theatre

CONFIDENCE
Boundless Theatre's 20th anniversary revival of Confidence was at Southwark Playhouse in May 2018. More details on the Confidence/Thin Man page.
---
WCTT YAC Act Two Presents
TEAM SPIRIT
Friday March 9th and Saturday March 10th (including matinee) 2018
Tania is alone at sea yet she has a million eyes on her, watching her every move. How often to we have the same experience in our daily lives?
Directed by Katie Turner-Halliday

Further details of the play, and productions can be found on the Team Spirit/Mermaid page.
ONCE AROUND THE SUN was one of the winners in 2016's Croydon International Playwriting Competition. It received a rehearsed reading at Croydon Town Hall directed by Stephen Fingleton.
Synopsis: Once Around the Sun is set in a London station cafe, the scene of a bombing exactly a year earlier. Six people meet; all have some connection to the bombing, and all have things to hide. As the play unfolds, both personal and political secrets are revealed. Is it possible for the anniversary of the explosion to act as a catalyst for positive change, either for these individuals, or for society?
Won the Jack Langford for best full length play at the Portsmouth Third Playwrights' Conference in May 2006.
A new short play IN FACT IT'S A GAS - a comedy about switching energy supplier. Tuesday November 1st to Thursday November 3rd 2016 at the Bread And Roses Clapham. Directed by Benji Bailey.
DESERVE TO DIE
A monologue in ALONE IN THE BOX at the Bread and Roses, 12-16th July 2016.
Producer: Tessa Hart.
Director: Su Gilroy.
Cast:
KARLY - Lucy Harper
The monologue was reviewed by London Pub Theatres reviewer Laura Thomas. As follows:-
"Some sparkling new writing and superb performances in this collection of one person plays. The dangers of that toxic mix of hubris and sentiment that bleeds all over social media is the theme of Judy Upton's 'Deserve to Die'. Lucy Harper is well cast as the articulate and media savvy pop star whose song has created a death cult. Su Gilroy directs with panache and flair, and it is so refreshing to see contemporary satire with a light touch and genuine wit."
GOGGLES.
A new short play 'Goggles' was produced by The Company, at 3pm on Sunday May 22nd 2016 as part of Steyning Theatre Trail.
'Some people can't help making a spectacle of themselves'. A play about a malfunctioning virtual reality headset and a practical joker.
Performed at: Cobblestone Tea House, Cobblestone Walk, Steyning, West Sussex.
Directed by Stephen Israel
| | |
| --- | --- |
| Cast: | |
| Helen | Kate Hunter |
| Sinead | Laura Schofield |
| Lucy | Sarah Milton |
| Steve | Keiran Garland |
TRUE GRIT.
'True Grit' was produced at The Brockley Jack, May 2015, directed by Roberta Zuric.
CARBOOTY.
Mind Your Head Theatre at The Bread and Roses Clapham, produced Judy's short play 'Carbooty' as part of SCRIBBLE:Welfare at 7.30pm on Monday, February 16th 2015.
Director: Sam Hopkins
Music: Sam Hopkins
| | |
| --- | --- |
| Cast: | |
| Caris | Paige Wilson |
| Karl | Gavin Dobson |
MARY LEONTI
A new production of this short play as part of Fright Night on November 1st-2nd 2013 at the Drayton Theatre, Kensington.
Directed by Liz Antonia Thomas
| | |
| --- | --- |
| Cast | |
| Woman | Babs Savage |
| Mary | Sarah Mueller |
| Mia | Lana McIver |
MILK
New short comedy play "Milk" has proved popular this year. A Black comedy in which a young couple discover a dark secret about the British food industry.
The London Grey And Green Theatre Company produced the latest version in their 2013 summer's show 'City Slices & Country Crumbs'
City Slices & Country Crumbs showcased four new 15-minute plays, chosen from over 60 submissions. It was performed at the Hen & Chickens theatre from 17-21st September 2013.
'These plays are full of an affection for England that makes for a warm tonic on a cold night' - One Stop Arts
'A thoroughly enjoyable way to spend a night with friends and be introduced to some emerging young playwrights' – Everything Theatre
'Certainly worth the trip to Islington' – Female Arts
Directed by Tessa Shrubsall
| | |
| --- | --- |
| Cast | |
| Ricky | Ben Fensome |
| Jemima/ Dr. Rowland | Felicity McCormack |
| Megan | Natalie Sheriff |
'The play, and the relationship between dairy farmer and lactose intolerant girl, is funny and endearing' – Everything Theatre
'Milk' was also on in 'The Cafe Society Show' in Hove, Brighton and Lewes in July 2013. See www.cafesociety.info for more details.
Venues:- The Redroaster Coffee House St. James St. Brighton, Sunshine Books, Arts and Coffee, Hove Street, Hove, and The Buttercup Cafe, Malling Street, Lewes.
Finally, this play was also produced by Theatre Renegade in Courting Drama at the Attic, Bush Theatre, 7 Uxbridge Road, London on Saturday May 25th 2013.
Directed by James Bounds.
Cast (at the Attic)
Megan - Jennifer Lim
Steven O'Neill
Abi Unwin-Smith
BRUISES.
An excerpt from this play (Joint winner of the 1994 Verity Bargate award) set in Worthing will be part of 'Wilde About Worthing' at Heene Gallery, Heene Road Worthing on 28th and 29th June 2013 at 6pm.
PUSH THE BUTTON.
Another popular short play, this one could be seen in The Platform's 'Best Of' showcase at The Bread and Roses in Clapham on June 26th-June 27th 2013
82 TO NORTH FINCHLEY
This popular short play was produced by London Grey and Green Theatre Company in an evening of plays entitled "City Shorts" at the Rosemary Branch Theatre, 2 Shepperton Road, London N1 3DT from the 28th May to the 2nd June 2013
Directed by Charlie Ely.
| | |
| --- | --- |
| Cast | |
| Dani | Amelia Kirk |
| Sam | Emma Sylvester |
| Toni | Emma Stirling |
SIMONE THE CYBORG
Simone the Cyborg is another new short podcast written by Judy, and available from Frequency Theatre.
Synopsis: It's hard to stand out in the job market as Simone is rejected from job after job. When she see's an advert for "cybernetic enhancements" is this her chance to have a unique selling point?
Directed by Scott Sophos
Produced by Bethany Sharp-McLeod.
| | |
| --- | --- |
| Cast | |
| The Interviewer | Graham Young |
| Simone | Heidi Mussett |
| The Woman | Samantha Robinson |
| The Journalist | Juliet Young |
| Andy | James Potter |
| The Tattooist | Stuart Robinson |
Music featured is I Do Believe you are Blushing by Unrest
A Birth of a peaceful Internal Renaissance by Transatlantic Rage
TRUE GRIT
A short play about what happens when a council worker is forced to grit the roads with chocolate cornflakes was produced in a showcase at Jill in Sydenham High Street by Write By Numbers on Thursday 21st and Saturday 23rd of March 2013.
TEACHER-SAURUS

A Podcast written by Matt Merritt and Judy Upton. Directed by Bethany Sharp-McLeod and Rich Chilver. Available from Frequency Theatre.
| | |
| --- | --- |
| Cast: | |
| Jack | Simon Kirk |
| Miss Everest | Jo Palmer-Tweed |
| Mum | Kate McCormick |
| The Museum Attendant | Rich Chilver |
| The Bishop | Paul T Davies |
Synopsis: Jack loves dinosaurs. To Miss Everest, his tyrannical T-Rex of a Sunday School Teacher, dinosaurs are an inconvenient truth that must be stamped out!
Produced by Bethany Sharp-McLeod.
Music featured is Fossils from the Carnival of the Animals by Camille Saint-Saens.
Download as a mp3 - Podcast RSS feed. Podcasts are also available to listen and subscribe to through iTunes.
POSTSCRIPT.
Two of Judy's short plays - '82 To North Finchley' and 'Undone' - featured in a show entitled 'Postscript' at the Drayton Arms, South Kensington on 11th and 12th January 2013.
82 To North Finchley
Directed by Joanna Greaves
Cast:
Danni - Lucie Regan
Sam - Alice Brown
Toni - Helen Belbin
Undone
Directed by Sharon Burrell
Cast
Celine - Helen Belbin
Psychiatrist - Paul Foulds
David - James Heatlie
ASHES AND SAND.
Judy's most famous play returned to Brighton ...
Tuesday 6th November-Saturday 10th November 2012 (5 nights) at Brighton Little Theatre.
WARNING: THIS SHOW IS NOT SUITABLE FOR CHILDREN.
CONTAINS SCENES OF VIOLENCE AND EXPLICIT LANGUAGE.
Directed by: Ella Thompson
Synopsis:- Set in Brighton, a tale of a teenage girl gang led by 15year-old gang leader Hayley who attack solitary men on the seafront and rob them. Daniel, a young police sergeant, who the girls all fancy, especially Hayley, who is infatuated with him to the point of obsession, is determined to put a stop to their activities. Hayley is equally determined to stalk and seduce Daniel, to the dismay of his partner, and whisk him and the gang to Bali on the proceeds of their robberies.
| | |
| --- | --- |
| Cast: | |
| Hayley | Harriet Powell-Corbett |
| Lauren | Chelsea Love |
| Anna | Justine Martin |
| Jo | Emma Hutton |
| Daniel | Joseph Bentley |
| Glyn | Steven Adams |
| Doctor/Man/Young Man | Neil Turk |
| Psychologist/Store Detective | Mattew Cullen |
SHORT PLAYS....
Judy's ten minute plays 'Push The Button' and '82 To North Finchley' featured in The Platform, at The Bread And Roses, Clapham Manor Street, London 12-13 October 2012
Both plays were directed by Joanna Greaves.
'Push The Button'
| | |
| --- | --- |
| Cast: | |
| Jake | Joseph Adelakun |
| Libby | Hannah Duffy |
| Padre | Tom Bonnington |
'82 To North Finchley'
| | |
| --- | --- |
| Cast: | |
| Sam | Alice Brown |
| Danni | Lucie Regan |
| Toni | Tessa Hart |
COME TO WHERE I'M FROM
In this special one-off performance of short, sharp dramas, four Sussex playwrights including Judy Upton - come home to tell their tale.
Leading new writing company Paines Plough has been commissioning playwrights from across the UK to create new works responding to the notion of where they are from.
In villages, towns and cities across the country these plays are now being performed to create a theatrical tapestry of Great Britain.
Come to Where I'm From is an inspiring and inventive theatrical experience that asks whether home is really where the heart is...
Sat 16th June 2012, at The Pavilion Theatre, New Road, Brighton, East Sussex
More details on the Paines Plough website, and the Brighton Dome.
82 TO NORTH FINCHLEY
A Podcast written by Judy Upton. Directed by Paul George. Available from Frequency Theatre.
Performed by Alex Willis (Joe), Beth Reid (Sophie) and Ben Powell (Tom).
Synopsis: Joe is never far from his wife for the voice of the London buses is not just anyone, she is Sophie. His wife's voice has for years followed him as he travels around London, but now Sophie's been missing for two days. The only clue to where she may be is the change to her voice along the 82 to North Finchley and what may be at the end of the route.
Produced by Bethany Sharp-McLeod and Rich Chilver.
Song featured is "Ya take the Bus" by Special Moments, provided by www.freemusicarchive.org
Download as a mp3 - Podcast RSS feed. Podcasts are also available to listen and subscribe to through iTunes.
DUSA
A 15 minute comedy play.
Synopsis: Medusa hopes new contact lenses will be the answer to her stoney stares, while an art gallery is interested in the very life-like sculptures in her garden. Perhaps her life won't be a Greek tragedy after all.
Produced by Cahoots Theatre Company on 30th and 31st March 2012 at The Century Theatre, Ashby Road, Coalville, Leicestershire LE67 3LN as part of an evening of new drama.
THE CHRISTMAS GOAT
Synopsis: Strange goings on in a busy shopping mall before Christmas. Who has stolen the animatronic nodding reindeer?
Winter 2011/12: Judy's festive comedy "The Christmas Goat" was produced by Wild Orchid Theatre as part of "Yuletide Cheer and Festive Tales" - first at Cromford Mill, Derbyshire on 3rd December, and then Sharpe's Pottery Museum on 10th December 2011
ASHES AND SAND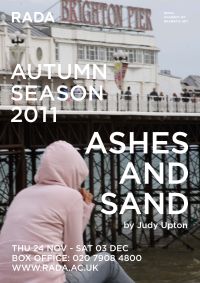 A new production of Ashes and Sand was staged by RADA for their Autumn 2011 season, between 24th November and 3rd December.
UNDONE.
Rehearsed reading of short comedy play 'Undone' at Shoreham-by-Sea Community Centre as part of Shoreham Wordfest 2011 Friday September 30th
Cast: Imogen Muller Porter as Celine, Jody Bull as David and Roger Deller as the psychiatrist
Fiction.
July 2011 - Judy's short story 'Would You, Could you?' will be published in a future issue of The Yellow Room magazine.
July 2011 - Judy's short story 'Crying Wolf' was published in the summer 2011 issue of downloadable 'zine Pages Of Stories.
BREATH OF FRESH AIR - BELTON PARK PROJECT.
As part of the Breath of Fresh Air programme Judy was commissioned by Theatre Writing Partnership to create a downloadable interactive narrative for the National Trust property Belton Park in Grantham, which launched in the spring of 2011.
Theatre
Gaby goes Global.
by Judy Upton
directed by Ian Black
Synopsis: A new comedy by Shoreham playwright Judy Upton. First Performed in Wimbledon in 2009. Gaby is an employment advisor looking after Job Seekers. She is transferred for temporary cover from the Worthing to the Brighton office, where she is surprised to find so many unemployed artists. Seeing a marketing opportunity, Gaby works with a group of artists to their mutual advantage. However she doesn't plan for the full devious nature and entrepreneurial extremes of some of the group and without her knowledge she becomes an overnight worldwide celebrity.
Not suitable for children.
At the New Venture Theatre, Bedford Place, Brighton, 6–13 November 2010
Details of this play can be found on the Gaby goes Global page, and there is also a media gallery featuring pictures from the original production (pictures copyright Trish Gant - see www.trishgant.com)
Push the Button.

Synopsis: An unexpected loss of control changes everything. Can mortal enemies Libby and Jake give peace a chance?
Spilt Milk will be performing short comedy 'Push The Button' as part of their Summer at the Milk Club Show at Proud Cabaret in London.
Directed by Nicola Rockhill
Fight director Toby Spearpoint

There were 3 performances on the last Wednesday of July, August and September 2010 at Proud Cabaret
The play premiered at the Hotbed festival in Cambridge in 2008, and more details are on the Festivals 2008 page.

For more details: www.spiltmilktheatre.com or www.proudcabaret.com
Film.
Exposed.
EXPOSED, Judy's ten minute screenplay that won production funding as one of the Film Council/Screen South's Digital Shorts was shot in the summer of 2009 in Porchester and Fareham. It was directed by Sue Dunderdale and produced by Diane Shorthouse.
'Exposed' is the story of Erin, a shy young woman who steals photographs in order to allow her to start conversations with other people. Erin has been bereaved and people don't know what to say to her. Snatching photos from the digital developer in her local pharmacy gives her a number of fictional relatives, friends, boyfriends, babies and pets to talk to strangers about. But Adam, a young assistant in the pharmacy has noticed her stealing the photos…
'Exposed' had an industry screening at BAFTA on Wednesday 10th February 2010.
It was also screened at the 19th Chichester International Film Festival on August 31st 2010.
And was shown at Portsmouth Film Festival on Sunday September 26th 2010
May 2011 - 'Exposed' was screened in the Short Film Corner of the Cannes Film Festival.
Television.
Judy has been awarded a Research and Development Grant from PAWS (Public Awareness Of Science & Engineering) to develop her TV series idea 'Tooth And Claw' with Film & General.
Theatre (cont).
Noctropia.
Book by Judy Upton
Score by Oliver Searle
As Part of Hampstead Theatre's Daring Pairings 3
MAIN STAGE, HAMPSTEAD THEATRE, WEDNESDAY 28 OCTOBER 2009, 9.30pm
A surreal fantasia following the author of a wildly successful comic-book series, who lives out his dreams of empowerment through the fictional world of his own creating. All is well… until his creations break through to the real world.
Hampstead Theatre invites the Musical Theatre students of Central School of Speech and Drama to take to the main stage with extracts of this brand new musical in development, with book by Judy Upton and score by Oliver Searle.
Durham Mysteries 2010.
Details of this play are now on the Durham mysteries page.
Cabaret on a Sinking Ship.
New Writing South in association with The Nightingale Theatre present Cabaret on a Sinking Ship (a work in progress).
Flick To Kick.
A premiere By Judy Upton and Matt Merritt
Produced by the Menagerie Theatre Company as part of Cambridge Hotbed Festival 2009 The Junction, Clifton Way, Cambridge Saturday June 27th - Saturday July 4th 2009
'Fathers, sons, and a serious game of subbuteo.' A forty-five minute monologue.
Performed by Gary Mackay.
Directed by Paul Bourne
Designer Helen Stewart
Swoop.
A short play about a girl and an owl. Swoop was part of "Paper Planes" at The Nightingale Theatre, Brighton on Saturday June 6th, 2009.
Produced by Suhayla El-Bushra & Samreen Masood
Directed by David Sheppeard
Cast: Kezra - Natasha Lamper; Greg - Emil Marwa
2008 was a busy summer for Judy with premieres of 3 new short plays in 3 Festivals. You can now read about them on the Festivals 2008 page.
Watch this space for upcoming productions and projects in development.
PENSIONED OFF.
Synopsis: Nola is a retired judge. One day her friend Brogan disappears, and he's not the only unexplained disappearance. Is there a sinister explanation?
ONCE AROUND THE SUN.
Synopsis: Once Around the Sun is set in a London station cafe, the scene of a bombing exactly a year earlier. Six people meet; all have some connection to the bombing, and all have things to hide. As the play unfolds, both personal and political secrets are revealed. Is it possible for the anniversary of the explosion to act as a catalyst for positive change, either for these individuals, or for society?
Won the Jack Langford for best full length play at the Portsmouth Third Playwrights' Conference in May 2006.
REPAIRING THE DAMAGE.
Synopsis: A fire has left a gaping hole in the roof of a house. The builders arrive to start the repairs, but find the occupants are even more damaged than the building.
This new stage play had a Rehearsed reading at Sound, Wardour St, London, on November 2nd 2005.
Text and Site Design - Copyright © 1999-2022 Judy Upton
[ Main Page ]